Then And Now: The Honda CR-V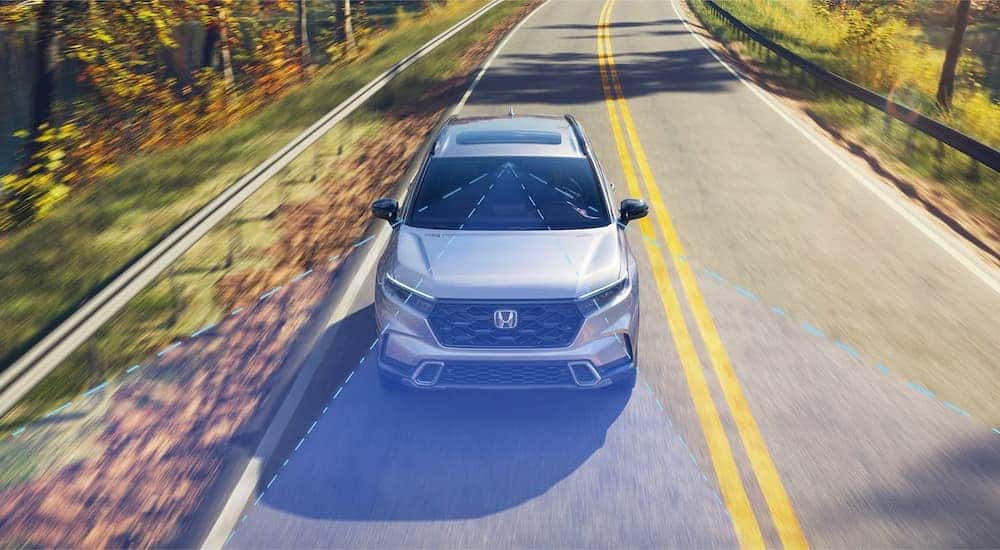 As a Honda dealer serving Carrington and the surrounding area, at Ryan Honda of Minot, we carry an extensive selection of Honda models, and that includes the exciting and stylish 2023 Honda CR-V. The new CR-V has an impressive line-up, including hybrid options that are sure to make your neighbors green with envy. A new look and vibrant personality give us a new CR-V that is unlike its previous models.
The Honda CR-V has seen many changes over the years, but one thing has remained consistent, and that is its unwavering popularity. A fan favorite from the beginning, the CR-V entered the automotive industry ready to dominate and did just that. First offered in the US in 1997, the Honda has remained a top contender in the crossover market for over twenty-five years thanks to its design and reliability. It doesn't hurt that it sports the Honda nameplate.
Then: A Honda Compact Crossover Is Born
The first CR-V is a fun compact SUV with a swing-out tailgate and foldable back seat. It was available only with one trim level, the LX, but was joined by another trim a year later. The LX is all-wheel drive, which is a great feature on a crossover. Perhaps the most unique feature of the first generation of CR-V is that it came with a pop-out picnic table. Stowed away beneath the cargo deck, no one the wiser, a portable picnic table was primed and ready to help you make memories.
Roomy, comfortable, reliable, and with enough features for the time, the CR-V was a hit, with no unnecessary extras added. If you were to get behind the wheel of a 1997 CR-V, you could count on having AC and heat as standard features, although there was no dual-zone climate control or voice-activated controls like you see now. Cranking some tunes would be courtesy of an AM/FM radio and cassette player. Despite the obvious technological limitations of the time, the CR-V was still a standout model among its class.
The foldable back seat could lay flush for an abundance of cargo space, while the tailgate flips outward towards the right with an independent glass hatch. The front of the CR-V was somewhat petite, with a small grille and compact shape. Obviously, with each year, the CR-V saw significant changes, adding more and more to the already great compact design. The 2023 CR-V marks the sixth generation for the crossover, and they have even gone as far as including a hybrid option. As great as the CR-V is, it is a shame there is no longer a folding picnic table, but there's plenty of innovative tech to take up for it.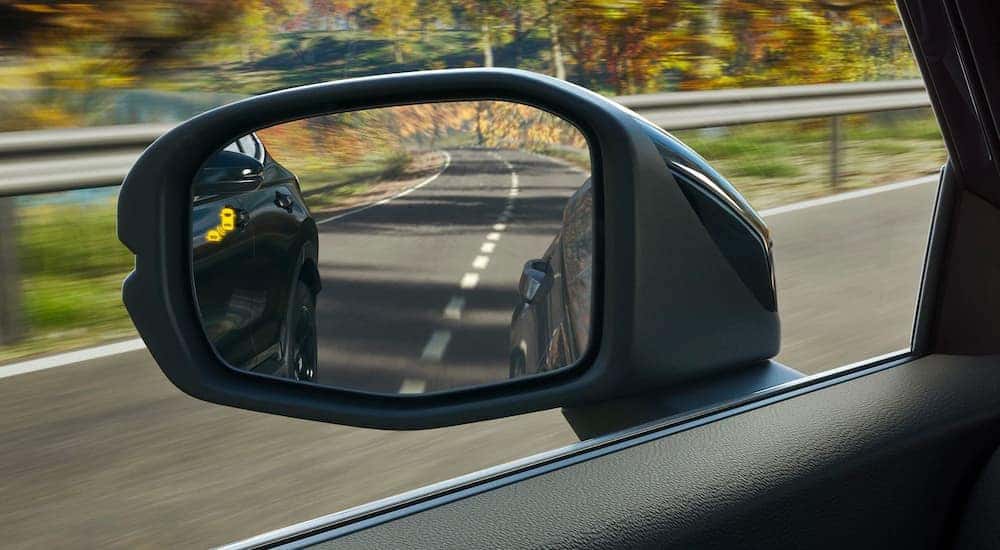 Now: The All-New 2023 Honda CR-V Arrives
The CR-V rolled into the new year, ready to strut its stuff. The front demands much more attention than before, with a boxy front end which is achieved by widening and stretching the wheelbase. An updated honeycomb and mesh fusion grille and a more brawny lower front fascia add to its new look. Quite a change from the scanty grille that appeared on the 1997 model. In reverse, the lower fascia of the new CR-V has been shrunk down compared to the first model, where the lower fascia took up half its front end. Additions like roof rails and side cladding add to the new adventurous side of the CR-V that was hinted at in the first generation.
The 2023 CR-V also took it up a notch with luxuries. With one touch, you can open the power moonroof and watch the clouds roll by from the comfort of the spacious and serene interior. Available leather appointments and accent stitching offer just the right punch of luxury, and you can enjoy heated front seats on all trims, as well as ten adjustable positions for the driver to decrease fatigue and increase comfort. The CR-V still offers plenty of room for cargo or passengers. Rather than a back seat that folds down fully, there is a foldable 60/40 back seat so you can customize how you use your crossover.
Built for Excellence
The CR-V is designed to tackle everything the road can throw at you. It is equipped with a standard 1.5L turbocharged engine that revs life into the crossover. The addition of the available Real Time All-Wheel Drive with Intelligent Control System enhances this Honda SUV's performance by using sensors to determine if power needs to be diverted to the rear wheels to increase traction. Quite an improvement over the four-wheel drive offered on the 1997 version.
Select trims feature the 4-mode drive system to take the guesswork out of driving. Choose between ECON, Snow, Sport, and Normal to get the most out of your CR-V. Upgraded struts and a stabilizer bar add stability and control in both normal and adverse driving conditions. Safety is a priority with Honda, which is why every trim comes standard with Honda Sensing driver assistance features.
The Honda Sensing suite comes with an array of assistance tools, such as auto high-beam headlights and a traffic sign recognition system. The lane keeping assist system uses technology to make sure you don't drift out of your lane unintentionally. If you intend to switch lanes, the addition of the blind spot information system with cross traffic monitor helps by alerting you to vehicles in your path.
Adaptive cruise control keeps you safely behind the vehicle ahead, lowering your chances of a head-on collision. Plus, with forward collision warning and the collision mitigation braking system, you can get help before an accident occurs. That is just the beginning of the many safety features offered with the CR-V. To think we used to be impressed by just airbags!
Added Comforts
The first CR-V may not have been overly cushy, but it was just right for the time. Now, however, people expect a lot more out of their vehicles. That's why features like heated steering wheels and ambient lighting are becoming more popular and add a unique feel to your drive. All trims come with heated front seats, and higher trims are decked in leather accents. Even the outside mirrors are heated, which offers convenience and safety during the winter; imagine a cold icy day thwarted by your heated mirrors melting away the cold. The CR-V has truly evolved to become an SUV with your comfort and convenience in mind.
It wouldn't be a new Honda without a suite of technology, and that includes the exclusive HondaLink. HondaLink helps connect you to information and entertainment; plus, with Apple CarPlay and Android Auto connectivity, you can connect your smartphone and access everything hands-free. Everything is displayed on a color touchscreen that is easy to use and navigate, giving you everything you need to stay connected during your travels.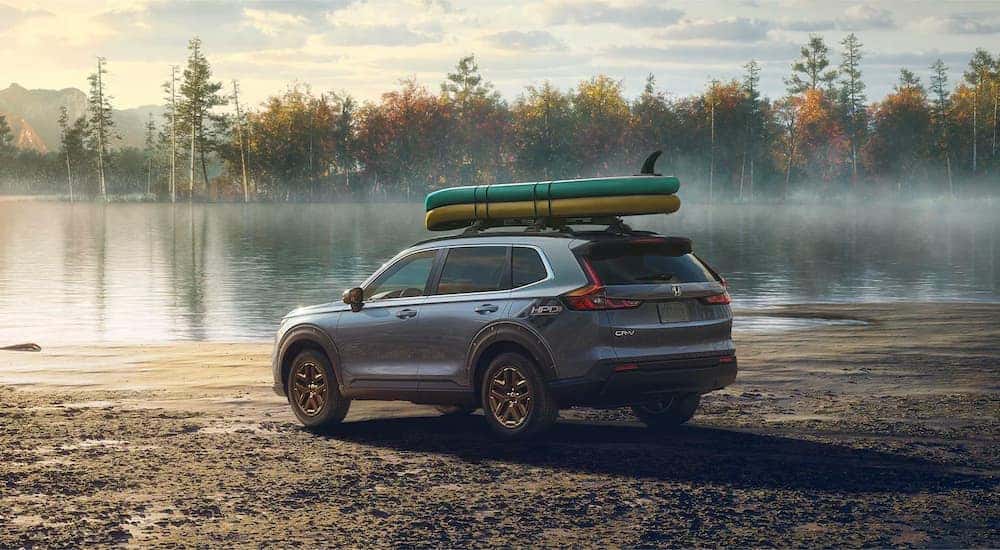 From Past to Present
Many changes have been made to the CR-V. Most of them are just updates to keep up with the world around us, like the integration of Apple and Google apps. There was a time when airbags and power locks were the norm, but now backup cameras and sensors are. In one sense, it is a bit difficult to compare a car from over fifty years ago. However, on the other hand, the CR-V is still the fun and dynamic vehicle it first was when it rolled onto the scene.
Despite serious upgrades over the years, it has remained a symbol of Honda's attention to detail and undeniable craftsmanship, so comparing the two seems natural since Honda did such a great job carrying on the CR-V legacy. It's always fun to look back at how things have changed and how far we have come. The CR-V has improved with the times and has maintained its position in the automotive world. Hopefully, the CR-V will be around for many years to come, continuing to show us how it improves and stays ahead of the curve.