When to Replace a Serpentine Belt

---
A serpentine belt is an important auto part that keeps your vehicle running around Bismarck. You may know that. But how long does a serpentine belt last? Let's delve into the answer to that together right now!
Also known as drive belts or accessory drive belts, serpentine belts are made of sturdy rubber typically meant to last for 50,000 to 100,000 miles. However, this can see wear over time with exposure to heat and friction. Learn when to replace a serpentine belt with the technicians in the service center at Ryan Honda of Minot. When it's time to replace yours, schedule your appointment!
What's the Purpose of a Serpentine Belt?
The serpentine belt may not always be at the top of Devils Lake drivers minds, but this drive belt is a long, winding belt that helps send power to the alternator, power steering pump, water pump, and air conditioning system. Knowing when to replace a serpentine belt helps local Honda drivers keep their vehicles running smoothly for years to come.
Common Signs it May Be Time to Replace a Serpentine Belt
A serpentine belt will only last so long until it starts to peel, crack, slip, or fray. Pay attention some of the following red flags for signs it's time for a replacement:
Squealing Noises: When there are strange noises, this could indicate belt stretching or low tension, or the belt and pulley aren't properly connected.
Wear and Tear: Upon inspection, signs of cracks, uneven wear, etc. can be seen on the belt.
Systems Failure: When the systems that the belt powers, like power steering or air conditioning, start to fail it's a sign the drive belt needs to be replaced immediately.
Complete Breakdown: The most obvious sign comes when the vehicle fails to operate. Unexpected breakdowns around Dickinson can be extremely dangerous, and can be prevented with routine maintenance checks and catching the signs early.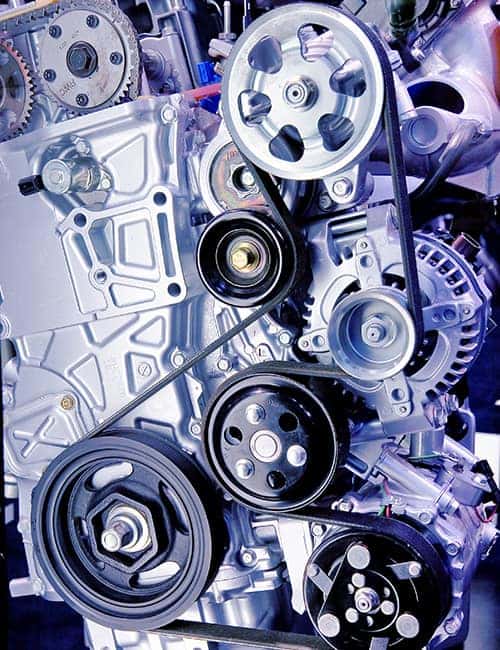 Belt Tensioners
Self-controlled belt tensioners can be found on modern drive belts and are intended to hold a certain amount of tension on the serpentine belt. Using an internal spring and pulley system, this helps prevent damage and breakage. Loose drive belts can cause the power steering, cooling system, and engine to fail, but with the use of a belt tensioner, it is kept in place. Belt tensioners can be replaced at the same time as the serpentine belt.
Service Your Honda with Ryan Honda of Minot!
Stay up to date with how long your serpentine belt lasts by completing regular vehicle maintenance. Contact us to schedule your maintenance or if you have questions about your recommended maintenance schedule. Interested in learning more about your vehicle. Read up on our common service questions and DIY car care steps you can take.
More From Ryan Honda of Minot
Honda continues to update the Civic each year with fresh features, exciting updates, and all-new content. The Civic is available in multiple configurations, including the standard sedan, a hatchback, and two performance models: the Honda Civic Si and the Honda Civic Type R. If you were looking at Honda cars for sale and struggling to…

As a Honda dealer serving Carrington and the surrounding area, at Ryan Honda of Minot, we carry an extensive selection of Honda models, and that includes the exciting and stylish 2023 Honda CR-V. The new CR-V has an impressive line-up, including hybrid options that are sure to make your neighbors green with envy. A new…

For decades, Honda has been a brand that drivers trust to safely and reliably get them where they need to go. They may be known for steady sedans like the Civic or Accord, but Honda has its hands in the SUV segment, too, making a name for itself amongst single commuters and families alike. For…