2023: From Passport to HR-V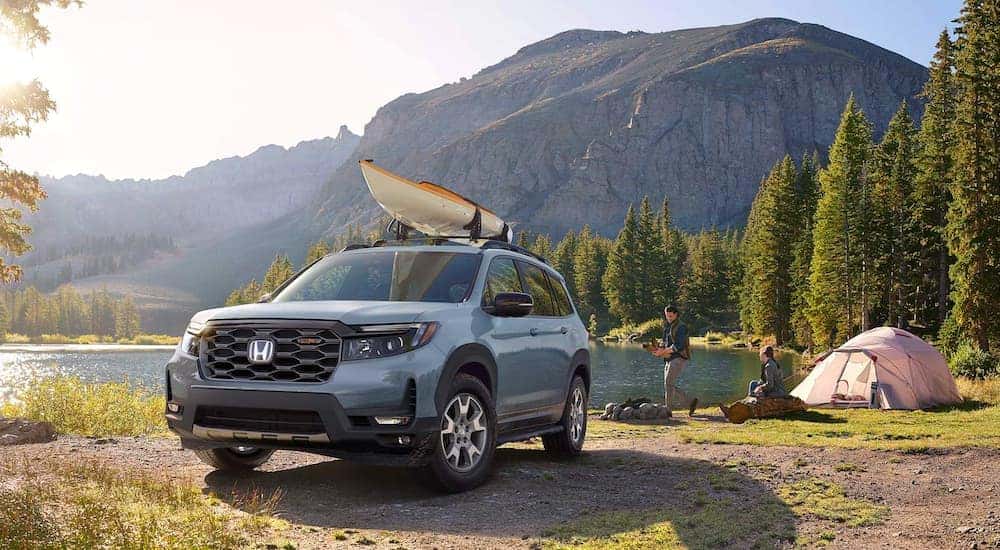 We know it can be difficult to choose a new vehicle, especially with new options rolling out each year. It can be challenging to narrow down a make, let alone a model, but the great thing is, if you're reading this, you're already a Honda fan. Chances are you have a good idea of the different Honda SUVs there are, but might not know the ins and outs of each model and which one will work for you.
Luckily, Honda has an impressive lineup of 2023 SUVs for any kind of driver. From the powerful 2023 Honda Pilot to the luxurious 2023 CR-V Hybrid, we here at Ryan Honda of Minot are ready to give you a look at how these vehicles stack up. So, strap in and take a ride with us as we explore Honda's most rugged collection yet.
The 2023 Honda Passport
Starting off our list is the 2023 Honda Passport. With a run originally in the '90s to the early 2000s, the Passport is not new to Honda's collection. After a bit of a detour, the Passport accelerated its way back onto the scene in 2019. The Passport received a handsome new facelift for 2022, giving it a rugged appearance and distinct personality. This new look is still being used for the 2023 model, showcasing its success at redefining the Passport's look.
The most notable change for the 2023 Honda Passport is that the EX-L trim now comes standard with Honda's all-wheel drive system. With the push of a button, this all-wheel drive technology enables the vehicle to switch between road, snow, mud, and sand. This feature is sure to come in handy when facing the icy roads of North Dakota.
The aptly named Passport has the potential to transport you and your family on some new and exciting adventures. Honda's advanced safety features, such as forward collision warning and collision mitigation braking, will give you peace of mind with every turn. Safety and adventure go hand-in-hand for Honda, which is why the Passport is built for adventure.
It doesn't matter if you're planning a trip to one of North Dakota's many camping spots or you're ascending the snowy roads of Turtle Mountain; the Passport has you covered. With its 5,000-pound towing capability and a sporty utility package, the Passport feels way more adventurous than your average family sport utility vehicle. Get out, get a little mud on the tires and see everything the Passport has to offer.
The 2023 Honda Pilot
The Honda Pilot is next on our list and probably one of the most exciting vehicles to roll out of Honda's lineup. The Honda Pilot is showing up for the new year with a completely redesigned appearance. With a bolder, more powerful design, it is easy to imagine this SUV zipping right off the lot of a Beulah Honda dealer and right through the scenic North Dakota landscape. A new and larger upright front grille makes quite a statement. The chrome detailing has been toned down, which gives it a much more rugged appearance.
With five trims available, there isn't much the Honda Pilot can't do. The trims are the Sport, EX-L, TrailSport, Touring, and Elite, with much of the attention focused on the TrailSport trim. There are some seriously cool features exclusive only to this trim that will take this vehicle further than ever before.
The TrailSport is the unique Pilot trim that offers suspension specifically tuned for your off-roading adventures. The TrailSport features additional ground clearance, specialized stabilizer bars, and more, all designed with the explorer in mind. Even the tires have been given a brawny boost to help you conquer the unknown.
If all of that wasn't enough to convince you that the TrailSport Pilot is the new king of the off-road, then what about the TrailSport Trail mode? In Trail mode, the TrailSport employs an exclusive trail torque off-road logic that controls the all-wheel drive system. This basically translates to better traction control for all of you risk-takers and thrill seekers.
As the cherry on top, the TrailSport Pilot also comes with the TrailWatch camera system. The TrailWatch system uses exterior cameras to allow you to see the terrain around you. It also has a smart component, automatically turning on at speeds lower than 12 mph and shutting off at speeds higher than 15 mph. With a brain like this and looks to match, the Pilot is one of Honda's most attractive vehicles of 2023.
Talking so highly about the TrailSport trim doesn't mean the other trims are anything to scoff at. From a removable second-row middle seat in the Touring and Elite trims to a seven-inch touchscreen in the Sport trim, the 2023 Honda Pilots are here to play. All Pilot trims have received a performance boost with 285 horsepower thanks to the powerful 3.5-liter V6 engine tucked away under the hood, making trailblazing easier than ever. And, with seven drive modes available, there isn't much that is off-limits.
As a midsize crossover SUV, roominess is expected. However, Honda exceeded expectations with the Pilot. The Pilot has been given a wider wheelbase and longer body length, which is emphasized by its new look. Increased cargo volume and an updated interior round this vehicle out to be one of Honda's most daring creations yet.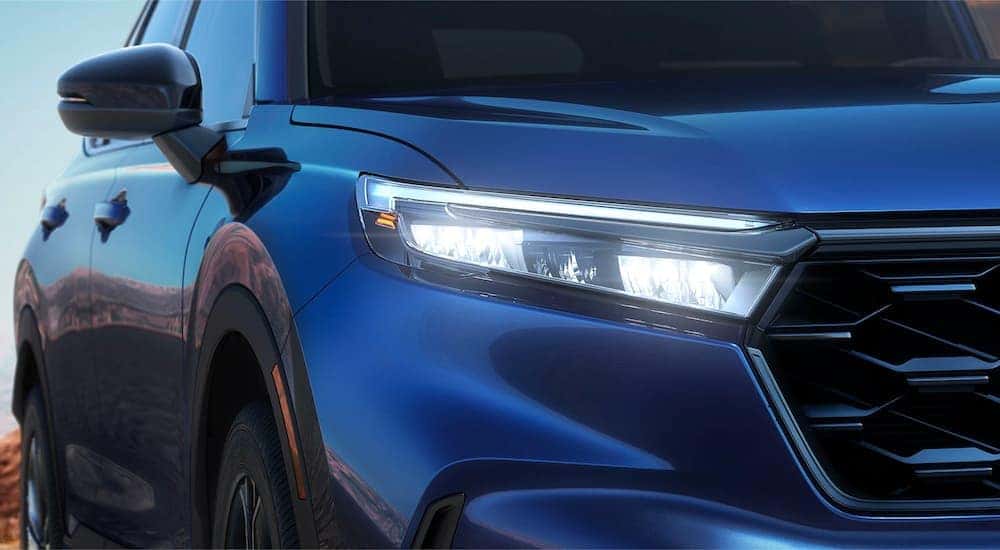 The 2023 Honda CR-V
After reading about the Honda Pilot, you may be wondering what else Honda could do to impress us. Well, wonder no further. Much like the Honda Passport and Honda Pilot, the Honda CR-V has also been given a brand-new look that we love.
The redesigned grille seems to be making its debut on many of Honda's SUVs. We don't blame them; with its upright stance and bold gloss-black paint job, the grille adds something extra impressive to their vehicles. Pair this with some sporty new lines and modern LED headlights, and the CR-V is certainly dressed to impress.
The CR-V hasn't undergone as many major changes as some of the other vehicles, but that isn't too surprising. Some of the 2022 trims have been dropped, leaving us with the EX and EX-L trims. Honda also added the Sport and Sport Touring trims.
Both the EX and EX-L trims come with a 1.5-liter turbocharged engine to boost power and improve efficiency. Taking efficiency one step further, both Sport trims come equipped with Honda's new and powerful 4th-generation two-motor hybrid-electric system. The transition into the use of the hybrid system demonstrates Honda's plan to move forward with more fuel-efficient vehicles.
The 2023 Honda HR-V
For newer Honda enthusiasts, the HR-V may be perfect for you. Built for the young-at-heart, the Honda HR-V promises a sporty and fun driving experience. The exterior has been revitalized with improved aerodynamics and a streamlined look. Honda even included some youthful touches, like a gunmetal metallic rear bumper and gloss-black rear spoiler.
The Honda HR-V now sports a hefty, more responsive 2.0-liter engine that produces 158 horsepower while still providing improved emissions output. All of the Honda HR-V trims are brimming with features intended to take this vehicle to the top. Standard with each trim is the Honda Sensing system with Traffic Jam Assist, Traffic Sign Recognition, and wide-view cameras. Each trim, the LX, the Sport, and the EX-L, also come standard with Hill Descent Control. These features are designed to protect you and your passengers, making Minot a safer place to live.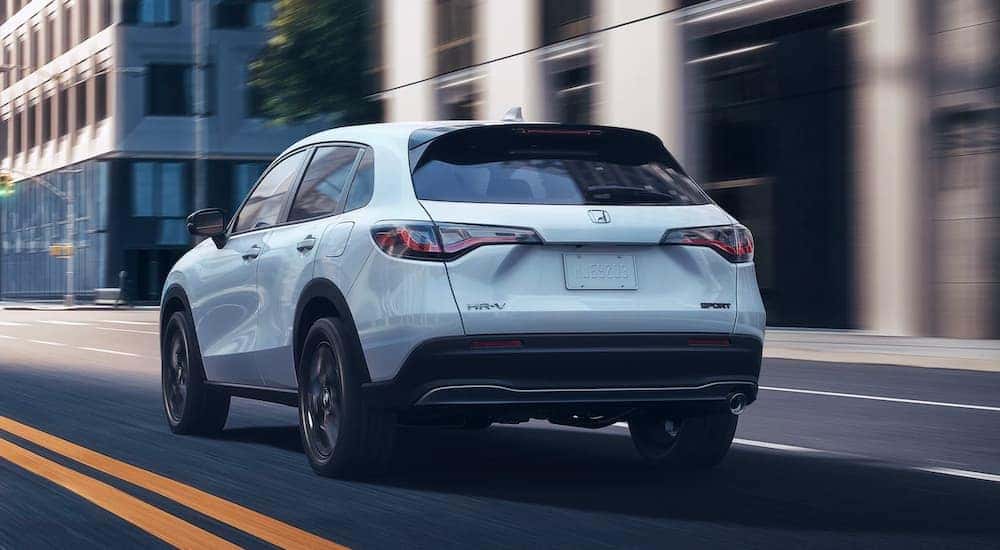 We'll Help You Find a Honda SUV
We love Honda, not just because it's in our name, but because it is truly a car fit for anyone with any lifestyle. As members of the Minot community, we know that not every SUV works for every buyer, so we will work with you and your unique needs to find the Honda that is a match for your lifestyle. Need something smaller that is good for commuting? The HR-V is there. Need something for the family but don't want to go too big? Look at the CR-V. Need something that can take you off the pavement? Try the Passport. Need to fit a lot of people? Consider the three-row Pilot. The Honda lineup has a range of options for you to choose from, so contact us or visit Ryan Honda of Minot today to check out the different options.